Case Study: National Lottery Hertiage Fund 'Developing A Shared Content Strategy'
The National Lottery Heritage Fund is the largest dedicated funder of heritage in the UK.
They believe that understanding, valuing, and sharing heritage brings people together, inspires pride in communities, and boosts investment in local economies. They distribute National Lottery grants from £3,000 to £5million and over, funding projects that sustain and transform the UK's heritage. They also provide leadership and support across the heritage sector, and advocate for the value of heritage.
"Working with Content Club helped us bring together a team with varying disciplines and focus our efforts on a single purpose. " --- Amy, Head of Strategic Communciations

The Challenge: A Complex approach to Content
The National Lottery Heritage Fund had recently merged several different funds and departments. All of which had different processes, disciplines, focus areas, channels, and ways of working in place.
This quickly became complicated and overwhelming for all team members.
They approached Content Club as they quickly needed a single approach for the organisation to buy into in order to encourage everyone to work together as one team. This included working together on one shared strategy, towards one common goal.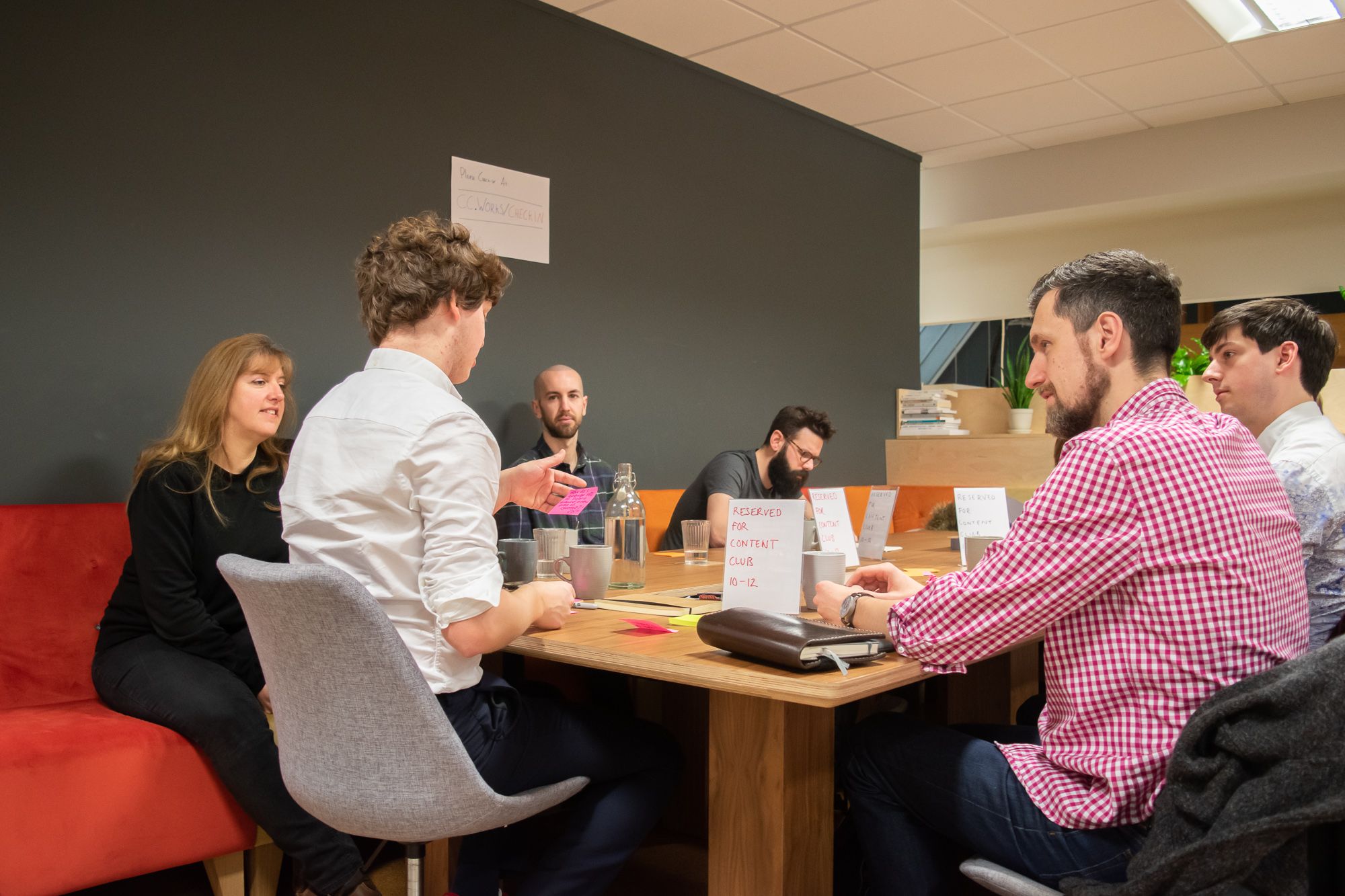 The Solution: Getting together around 'One way of working'.
After gaining a full understanding of how the team at The National Lottery Heritage Fund were working, and the challenges they were facing, Toby kicked things off with a series of workshops and 1-2 sessions.
The goals of these were to develop one core content strategy which was clear, manageable, and effective, and that the entire team could buy into and work towards.
The two day workshop was broken down into four units; Purpose, Planning, Producing, and Promoting, with a final session at the end to get their whole strategy down on one page.
Each unit contained a number of activities, tools, and tasks, which they deep dived into throughout. The team completed canvases, tools, and planning sheets throughout each section, which collectively made up their whole strategy moving forward.
Toby followed on from the workshop with a series of tailored, personalised, 1-2-1 coaching sessions with different members of the team.
These sessions included the creation of personalised content strategies to support specific marketing functionals and regions. Toby coached members around key areas of creative and planning with the goal of building up individual confidence. Members also received support from Toby in managing multiple priorities and directives from different parts of the organisation.
These sessions were followed up with small group coaching calls to help those from similar roles within the business to form joined-up ways of working together, alongside the wider team.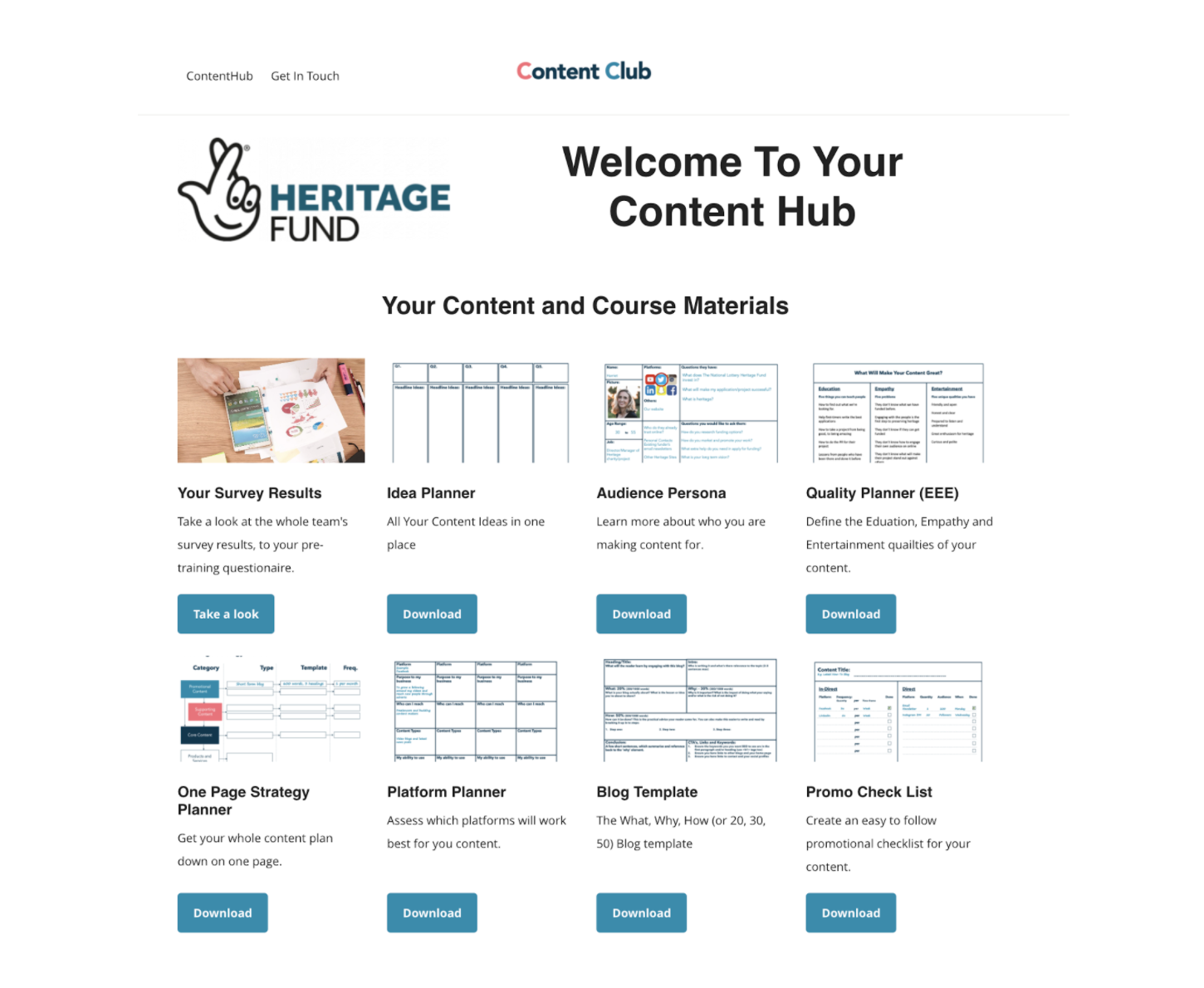 The Results: A shared strategy for every team
Off the back of the workshops and 1-2-1 sessions, Content Club produced a centralised hub for all of the resources which were created over the course:
This offered team members, both old and new, a simple but effective way to share their work between one another, as well as a point of reference to come back to for new content planning and strategy.
The National Lottery Heritage Fund were able to walk away from thier workshops and 1-2-1 sessions not only with one shared strategy which they could buy into and work towards. But also an increased confidence in content creation, management, and collaboration.
Would You Like To Work Together Like This?
Get in touch today and see how we could transform your appraoch to content.
Thank you for submitting the contact form.